Evaluating and creating digital content
Language level:CEFR B1
Time:15hours/5 weeks
Start date:06/06/18
Register for Evaluating and creating digital content and take part in a course that explores how to evaluate and create digital resources and activities to use with your learners, in and out of the classroom.
---
Description
Work with your moderator and other participants to evaluate and develop resources and activities using technology. Work through four modules covering searching and copyright, using digital images, evaluating and integrating websites and game-based learning to enable your learners to practise and develop their English skills using a variety of exciting digital content.
There are different start date options for this course. Please select the cohort with the start date you want when you enrol.
The modules in this course fall under the professional practice Integrating ICT. This includes:
Developing effective strategies for locating appropriate digital content.
Evaluating the potential effectiveness and appropriacy of digital content, tools and platforms for achieving desired learning outcomes.
Using technology in the production of teaching and learning materials.
Setting up activities that support learning by exploiting appropriate digital content, tools and platforms.
Promoting autonomous learning by exploiting digital content and technologies inside and outside of the formal learning environment.
Promoting collaborative and participatory learning by exploiting online communities, tools and platforms.
Reflecting on the effectiveness of my integration of ICT into the teaching and learning process.
Before taking this course, we recommend you take the self-access module, Understanding learning technologies – introduction to learning technologies.
To pass the course you need to score at least 70% in online exercises. You also need to contribute to online forum discussions and webinars (online workshops that take place in real time) and engage in reflective tasks using video observation to demonstrate your application of course content in your teaching.
Do you have any questions about this course? You might find the answer in the FAQs tab at the top of this page, or click on the Help tab at the bottom of the page if you'd like to ask about anything else.
---
| Activities: | Type |
| --- | --- |
| Getting started | |
| Unit 1 – Introductions | eLearning course |
| Unit 2 – Collaborative tools | eLearning course |
| Unit 3 – Reflective practice | eLearning course |
| Engaging with learning technologies – searching and copyright | |
| Unit 1 – Using a search engine | eLearning course |
| Unit 2 – Doing a research project | eLearning course |
| Unit 3 – Understanding copyright | eLearning course |
| Engaging with learning technologies – using digital images in education | |
| Unit 1 – Finding images online | eLearning course |
| Unit 2 – Creating digital images | eLearning course |
| Unit 3 – Lesson planning with digital images | eLearning course |
| Engaging with learning technologies – evaluating and integrating websites | |
| Unit 1 – Suitable websites for teaching | eLearning course |
| Unit 2 – Evaluating activities | eLearning course |
| Unit 3 – Designing web-based lessons | eLearning course |
| Engaging with learning technologies – game-based learning | |
| Unit 1 – Why use digital games? | eLearning course |
| Unit 2 – Using authentic digital games | eLearning course |
| Unit 3 – Evaluating and designing games | eLearning course |
Overview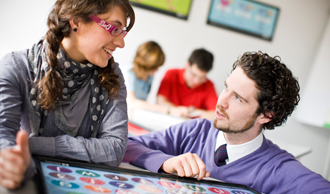 Enrolment
* Prices in British pounds