Language level:CEFR B1
Time:36 hours/12 weeks
Start date:02/07/19
Register for Applying approaches to special educational needs and take part in a course covering a wide range of learner needs that will help you immediately use inclusive practices with all your groups.
---
Description
In this 12-week online course, you will be guided by our expert tutors through a series of awareness-raising activities, group discussions, live webinars and practical tasks which will help you develop your understanding of and ability to deal with a number of different learner needs in the classroom. By the end of the course, you will be better equipped to provide a fully-inclusive learning environment for all your students.
There are different start date options for this course. Please select the cohort with the start date you want when you enrol.
The modules in this course fall under the professional practice Using inclusive practices. This includes:
Recognising and valuing diversity among my learners.
Using pedagogical strategies that encourage inclusive education within a supportive learning environment.
Supporting my learners in identifying, addressing and assessing realistic individual learning goals based on reasonable adjustment.
Being aware of my beliefs and how they can impact on establishing and maintaining an inclusive learning environment.
Assessing individual learners in a variety of ways that allow them to demonstrate the progress they are making.
Treating all my learners equitably and with respect.
Developing positive attitudes towards diversity in my learners.
Involving parents, learners and other relevant individuals in creating an inclusive learning environment.
Reflecting on how inclusive my learning environment is and taking steps to improve it.
To pass the course you need to score at least 70% in online exercises. You also need to contribute to online forum discussions and webinars (online workshops that take place in real time), to demonstrate your application of course content in your teaching.
Do you have any questions about this course? You might find the answer in the FAQs tab at the top of this page, or click on the Help tab at the bottom of the page if you'd like to ask about anything else.
---
| Activities: | Type |
| --- | --- |
| Getting started | |
| Unit 1 – Introductions | eLearning course |
| Unit 2 – Collaborative tools | eLearning course |
| Unit 3 – Reflective practice | eLearning course |
| Understanding SEN | |
| Unit 1 – Introduction to SEN | eLearning course |
| Unit 2 – Models for SEN | eLearning course |
| Unit 3 – Differentiation with assignment | eLearning course |
| Engaging with SEN - dyslexia | |
| Unit 1 – Strengths and weaknesses | eLearning course |
| Unit 2 – Dyslexia | eLearning course |
| Unit 3 – Classroom strategies with dyslexia with assignment | eLearning course |
| Engaging with SEN - attention deficit hyperactivity disorder | |
| Unit 1 – Impact of ADHD on learning | eLearning course |
| Unit 2 – Frameworks for understanding ADHD | eLearning course |
| Unit 3 - Learning skills with ADHD with assignment | eLearning course |
| Engaging with SEN - dyspraxia | |
| Unit 1 – Indicators of dyspraxia | eLearning course |
| Unit 2 – Dyspraxia | eLearning course |
| Unit 3 – Dyspraxia with assignment | eLearning course |
| Engaging with SEN - visual, hearing and physical impairment | |
| Unit 1 – Physical impairment | eLearning course |
| Unit 2 – Visual impairment | eLearning course |
| Unit 3 – Hearing impairment with assignment | eLearning course |
| Engaging with SEN - gifted and talented learners | |
| Unit 1 – Identifying gifted and talented learners | eLearning course |
| Unit 2 – Characteristics and intensities | eLearning course |
| Unit 3 – Challenging gifted and talented learners with assignment | eLearning course |
| Engaging with SEN - inclusive assessment approaches | |
| Unit 1 – Understanding learners with SEN | eLearning course |
| Unit 2 – Assessment for learning | eLearning course |
| Unit 3 - Tools and strategies with assignment | eLearning course |
| Engaging with SEN - autism spectrum disorder | |
| Unit 1 – Recognising autism spectrum disorder | eLearning course |
| Unit 2 – Social rules | eLearning course |
| Unit 3 – Working with strengths with assignment | eLearning course |
| Engaging with SEN - social, emotional and behavioural difficulties | |
| Unit 1 – Engaging with SEN – social, emotional and behavioural difficulties (SEBD) | eLearning course |
| Unit 2 – Understanding social, emotional and behavioural difficulties | eLearning course |
| Unit 3 – Managing social, emotional and behavioural difficulties with assignment | eLearning course |
| Engaging with SEN - speech and language | |
| Unit 1 – Understanding speech difficulties | eLearning course |
| Unit 2 – Recognising speech difficulties | eLearning course |
| Unit 3 – Inclusive strategies with assignment | eLearning course |
| Engaging with SEN - multicultural influences | |
| Unit 1 – Internationally mobile children | eLearning course |
| Unit 2 – Linguistics, culture and learning | eLearning course |
| Unit 3 – Challenges in the curriculum with assignment | eLearning course |
| Record of work | |
| Record of work - SEN_MC | Activity |
Overview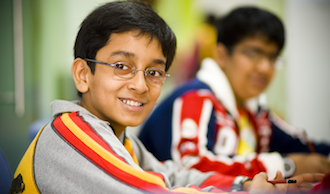 Enrolment
* Prices in British pounds