Language level:CEFR B1
Time:3 hours
Tap into our world of materials to help teach kids. Take this module and see how well your learners react to the new materials you start bringing into the classroom.
---
Description
By the end of this module you'll be able to:
recognise the value of big books as a resource
design and make big books using recycled local materials
employ storytelling techniques to introduce and practise language
show your learners how to make a zigzag book
use zigzag books to develop learners' language skills.
---
| Activities: | Type |
| --- | --- |
| Understanding picture books for primary | |
| Unit 1 – Literacy and storytelling | eLearning course |
| Unit 2 – Big books | eLearning course |
| Unit 3 – Zigzag books and digital storytelling | eLearning course |
Overview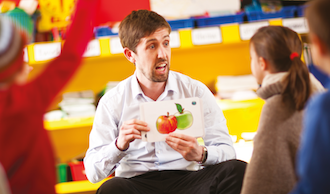 Enrolment
* Prices in British pounds